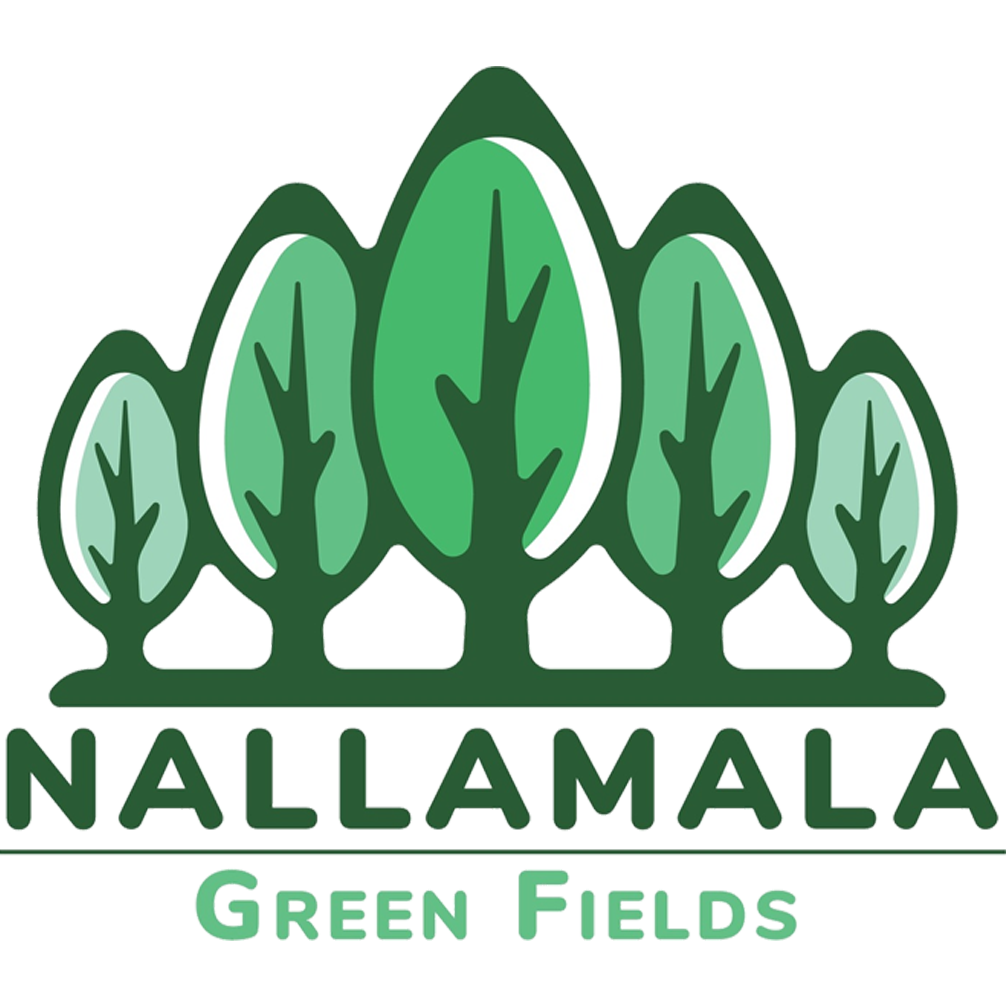 Project Status : Upcoming
Location : Molachinthalpally Village, Kollapur Mandal, Nagarkurnool District, Telangana
Project Overview
Welcome to Nallamala Green Fields, its 800 acres of mega and prestigious Land Bank project of Bharat Nirman Limited; the venture is being planned at Molachinthalpally Village, Kollapur Mandal, Nagarkurnool District, Telangana. The venture is situated and adjacent to River Krishna banks, located right next to Mahatma Gandhi Kalwakurthy Lift Irrigation Scheme-1.
At Nallamala Green Fields, you can enjoy excellent connectivity as it is located in a close proximity to Srisailam, which is witnessing a surge of pilgrims throughout the year. The venture is very close and just 15 minutes drive from Kollapur Fort, a huge palace built by the rulers of Kollapur in the year of 1871. The location is also famous for wonderful palaces and numerous temples such as Jatprole temples and Somasila temple; our venture location is an ideal weekend getaway near Hyderabad.
Farmhouse Experience
Offering an unmatched geographical advantage of Farm Land, great amenities supplied with 24/7 electricity and water, sufficient capacity of water tanks and water sumps as required, spacious playground for your children to relax, entertainment and indoor sports complex, well planned water canals for farming, club house with parks and swimming pool in 3 acres of dedicated land at hill side of the venture, watchmen's and best security services round the clock.
Venture Highlights
Adjacent to River Krishna Banks
1 Hour Drive from Bangalore Highway / Pebbair
10 Minutes Drive to Somasila Temple and Jatprole Temples
Nearby Mahatma Gandhi Kalwakurthy Lift Irrigation Project
15 Minutes Drive from Kollapur Town
Adjacent to Beautiful Hill Station / Nallamala Forest
40 Minutes Drive from District Headquarter / Nagarkurnool
Plenty of Water Resources
150 Km from Hyderabad / Shamshabad International Airport
Perfect Location for Weekend Destinations
60 and 40 Feet Village Roads Until Venture
50+ Tree Houses across the Venture for best Weekend Family Experience
The Venture Development Includes
Deforesting
Land Leveling-Plotting-Pitting-Plantation-Drip Irrigation and Manures
Gated Community Farm Development
Entrance Arch, Electricity, Bore Wells, Water Supply Facilities and Fencing
Internal 40 Feet Metal Roads & 30 Feet Gravel Roads along with Drains
Mango, Custard Apple, Sandalwood, Red-Sandal and Teakwood Saplings
Exotic Clubhouse in 3 Acres with Parks and Swimming Pool
Children Playground
24/7 Water and Electricity
Avenue Plantation and Periphery Plantation
Project Implementation and Operations
Registration of land in the name of investor
Apply for updation of revenue records and get passbooks
Development agreement between investor and Bharat Nirman Limited for a period of 15 years
Sourcing of best-in-class agricultural equipment
Setting-up a permanent and experienced farming families
Land development activities such as: Demarcation and bunds formation between each plot, servant quarters, nursery management, drip irrigation, plantation, mortality replacement, maintenance and harvesting
Scientific crop management and consequent healthy growth of the plantations together with robust security to the farm land
Intercrops cultivation for regular maintenances
Marketing strategies and market linkage
Regular supervision and development updates to investors
CCTV Live streaming can be implemented
Benefits of Investing in Nallamala Green Fields
One time investment
No further expenditure on maintenance
Land price appreciation
Tax free income
Developed land with sophisticated agricultural facilities
Secured venture plan and marketing tie-ups
7 to 7.5% per annum recurring income on investment through intercrops
As an owner of the property, the investor has all the rights to get crop loans, govt. subsidies and other govt. agricultural benefits as usually
As an investor you can enjoy regular organic vegetables, desi-milk and seasonal fruits
Extraordinary returns @ ₹ 1 Crore 50 Lakhs in 10-12 years through main crop
Lifetime clubhouse membership
At the end of the harvesting of main plantation, proceeds to be handed over to the investor. The returns will be divided between the investor and Bharat Nirman on 80:20 percent bases (80% to investor and 20% to Bharat Nirman)
Fantastic scenic view
The best weekend destination for families
Easy to commute from Hyderabad city
Payment Options
The booking of a plot in Nallamala Green Fields will be accepted with minimum 30% of the down payment in total sale value. The remaining amount must be paid in 3 (Three) equal installments within 1 year or as and when demanded depending upon the development of the venture. Time required for completion of this farm land venture will be about 36 (Thirty Six) months. Allotment of plot will be done on the first-come, first-serve basis. The investors who are interested in booking of the site shall make the payment in favor of "M/S. BHARAT NIRMAN LIMITED" through Cheque/DD/NEFT/RTGS only.
Pre-Launch Pricing
| Min. Unit Size | Rate Per Acre | Total Amount | Down Payment @30% | 1st EMI | 2nd EMI | 3rd EMI |
| --- | --- | --- | --- | --- | --- | --- |
| 1 Acre | ₹ 6,50,000/- | ₹ 6,50,000/- | ₹ 1,95,000/- | ₹ 1,51,667/- | ₹ 1,51,667/- | ₹ 1,51,666/- |
Actual Pricing
| Min. Unit Size | Rate Per Acre | Total Amount | Down Payment @30% | 1st EMI | 2nd EMI | 3rd EMI |
| --- | --- | --- | --- | --- | --- | --- |
| 1 Acre | ₹ 7,50,000/- | ₹ 7,50,000/- | ₹ 2,25,000/- | ₹ 1,75,000/- | ₹ 1,75,000/- | ₹ 1,75,000/- |
Venture Location
Nallamala Green Fields is located in Molachinthalpally Village, Kollapur Mandal, Nagarkurnool District, Telangana